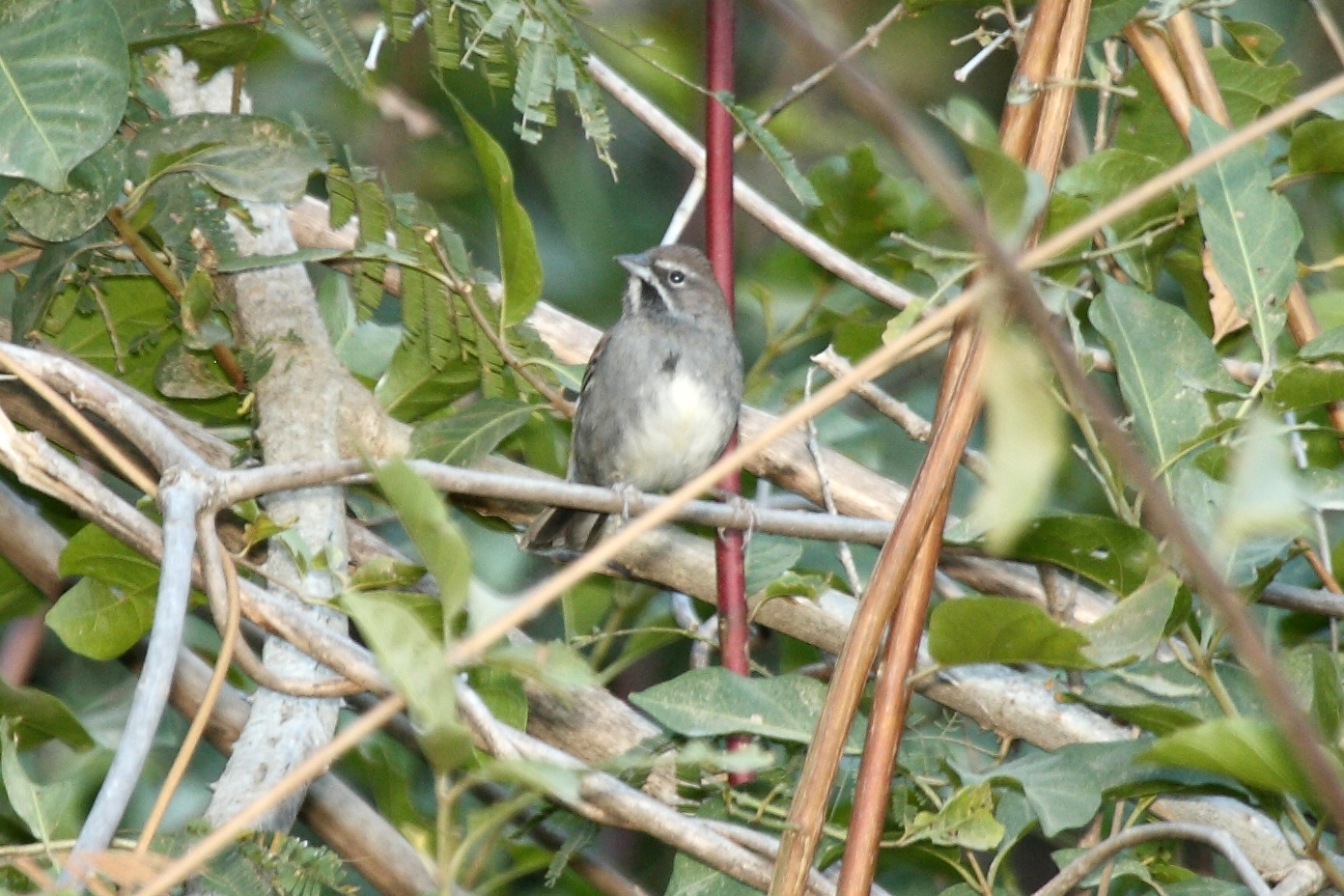 Photo by Dominic Sherony, via Wikipedia, Creative Commons
In 1995, my friend Karen and I went down to Arizona on a summer birding tour. Karen was a pretty new birder, so just about everything was new to her. I'd been to Arizona once before, but I saw plenty of birds for the first time, too. One of the birds I badly wanted to see—a bird so rare in the United States that it wasn't even included in my now vintage Golden Field Guide or Peterson Guide—was the Five-striped Sparrow. There was only one spot where we could hope to see it—a place called the California Gulch.
The California Gulch is in the Pajarito Mountains within the Coronado National Forest, 19 miles west of Nogales, 13 miles southeast of Arivaca, and just 1.8 miles from the Mexican border. It's accessed by an extremely rugged road down into a wash. Our group was in a couple of vans, and the road really was awful, especially the final 5-mile stretch. My only previous experience with the word Gulch was from The Wizard of Oz, wherein the nasty Miss Gulch transforms into the Wicked Witch of the West. So on the whole awful ride in, I had visions of Dorothy and her friends arriving at the Haunted Forest with the broken sign saying, "I'd turn back if I were you."
A guy named Jack wrote for an
Avian Sites website
with this information:
Standard passenger cars with low clearance are guaranteed to scrape the bottom due to ruts in the road and to large, embedded rocks that cannot be moved. Standard passenger cars will almost certainly scrape the bottom several times. Despite being inanimate, the rocks are skilled at moving about the road during the summer (and all other seasons), meaning the road conditions can be different from what your buddy experienced, saying he had no problem driving the road last week.
The best vehicles to use are SUVs and pickups; or, better yet, someone else's car -- perhaps the car of your buddy who said he had no problem with the road last week.
Our trip leader had come here before, but the other driver hadn't, and the road was at least as bad as described. When we finally made it to the rocky parking area about 11 in the morning, the sun high and the temperature in triple digits, both drivers were fried, and already dreading the fact that they had to make the exact same trip in reverse after we were done with our long hike.
I, on the other hand, was extremely thrilled to be at this storied destination. I was first to hop out of my van, spotting scope in hand, ready for anything. And sure enough, the moment I jumped out, I spotted an adorable fluffy baby bird perched on the barbed wire fence. It looked like it may have fledged that very day. I've never been able to turn away from a baby bird. This was long before I had a digital camera—I didn't even bring a film camera on this trip—but I got the bird in my scope and suddenly a bunch of us were oohing and aah-ing at the sweet little thing.
The hike into the spot where habitat was right and our bird was supposed to be was a long one, so our leader told us all to drink water now and make sure we brought along plenty more. I'd made sure of all that already, so I kept watching the baby bird. I didn't know what species it was—there were several possibilities there—so I was hoping that one of the parents would come to feed it before we walked off.
I waited patiently, letting everyone get leisurely views of it through my scope. As soon as everyone had had a drink and got a water bottle, our leader said it was time to head out. We'd already been there a good 5 minutes—maybe even 10—so I figured a parent bird would be flying in any time now. I told the leader to go on without me—I was young and peppy and filled with curiosity about this baby bird, and could walk plenty fast when necessary, so I knew I could catch up. But he thought this spot was too dangerous to leave a woman alone, so he said no—I'd have to go with the group.
I'm pretty easygoing most of the time, but can be tenacious when the situation calls for it, and here was an unidentified baby bird—I simply needed to know what species it was. I told him to give me just one more minute. He looked fit to be tied, but a couple of other people were curious, too. With exaggerated exasperation, he gave me 60 seconds. Absolutely no more.
He was starting to clear his throat as the clock wound down. With less than 5 seconds to spare, in flew the mother bird. And yep—she was a Five-striped Sparrow! Everyone was elated to get such wonderful views—she flew straight to her chick right there on the fence. And while she was still feeding it, in flew the father, who gave a bug or two to the baby and then opened up into song.
The level of my jubilation just to be able to see this little family group at close range was even higher than the level of my satisfaction at helping the entire group skip the long hike to where the birds were supposed to be. It really wasn't like I expected the birds to be Five-striped Sparrows. But wow was it wonderful that they were!
Of course, when I tell this story more than two decades later, most people listening immediately realize that that's where the story was going from the start. Sometimes a real-life story really does have an improbable yet obvious ending. Predictability isn't always a bad thing, especially when it comes with a dollop of vindication. That little Five-striped Sparrow fledgling and its parents were my Best Birds EVER!