Warblers aren't the only birds that gravitate to the Magee Marsh. I took this photo right from the Boardwalk during the 2018 Biggest Week festival.
So far this year, I've been sent several new bird books to review. I just happen to be heading to Panama in July, so imagine my pleasure at receiving from Princeton Field Guides. I won't be lugging this big book on my trip, but it's great for studying up on my birds beforehand.
The Birds of Panama
, published by a division of the Cornell University Press in 2010, will be the field guide I do bring—it's heavy enough, what with the tiny country's big list of 978 species. There isn't a good field guide app for the birds of Panama yet, but the Cornell Lab of Ornithology's Merlin Bird ID app does have a Panama pack that I've added to my phone.
Now that Jennifer Ackerman's wonderful
The Genius of Birds
has done so well, Penguin Books just revised and reissued one of her older titles in paperback. is a collection of essays about her experiences with shorebirds and seabirds during the time she lived on the coast of Delaware. It's a splendid book, genuinely worthy of republication.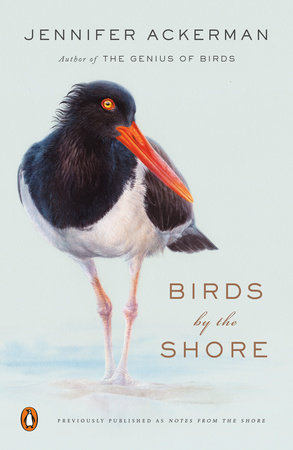 As a Midwesterner living on one of the most important migration hotspots in the country, I'm extremely thrilled about a new book highlighting a hotspot on another Great Lakes shoreline, Kenn Kaufman's
A Season on the Wind: Inside the World of Spring Migration
. I wasn't sent a free copy from the publisher, but I bought the electronic version the moment it came out and devoured it.
Kenn moved to the western shores of Lake Erie in Ohio from one of America's most exciting birding spots, southeastern Arizona, but he hasn't looked back. For anyone who might think that a top-notch, sensible birder might prefer living somewhere other than the greater Toledo area, Kenn starts his book by explaining what makes the shoreline of Lake Erie such a spectacular place to witness migration. His book focuses first on the geography that makes the small stretch that includes the Magee Marsh so important for birds. He also writes, lyrically, about some of the species, and even individual birds, that make up this astounding display, for example, one particular Blackburnian Warbler:
These small migrants don't wear license plates or carry passports, so it takes some study even to guess where they're traveling from and where they're going. The vast majority of these migrants are navigating solo, not in flocks, though they'll join up with other birds during their daytime stopovers. Every individual here has its own story—ten thousand separate stories in this little woodlot today, each one an epic.
Look: here's a tiny bird with a face and throat of brilliant, burning orange, set off by a sharp pattern of black. You could fall in love with it just for its Halloween colors and its alert, perky behavior. But if you know it's an adult male of a species called the blackburnian warbler, you can learn more about it. This bird just spent the winter in South America, in misty forests somewhere on the slopes of the Andes—maybe in Colombia, maybe in Peru, more than three thousand miles south of here. Early in spring it started moving north, working its way up through Central America in a series of night flights and daytime stopovers, then flying north across the Gulf of Mexico to the southern United States. Here in Ohio it's getting closer, but it still has many miles to go before it reaches its destination in some Canadian spruce forest.
That's only part of this bird's story, because last fall, of course, it had to make its way south, flying from Canada to South America. And it wasn't the first time. This bird is an adult, at least two years old. A little scrap of life weighing about half an ounce, it has probably flown across the Gulf of Mexico at least four times, spring and fall, and traveled untold thousands of miles under its own power. Now it is pushing north toward the breeding grounds, to claim a territory, find a mate, and try to raise another brood, to pass its strong and successful genes along to the next generation of blackburnian warblers. And this is just one individual bird.
Kenn writes of the dangers these birds face:
Against all odds, these birds must make their long journeys or perish in the attempt. People may imagine them to be cheery little songsters with the freedom to roam the world, but in fact they're driven by instinct that burns with white-hot intensity, locked in a pattern that leaves no room for choice. Time after time they fling themselves into the air for another long flight or gamble with their lives on a risky daytime stopover. None of them will die of old age. They'll just keep on performing herculean feats over and over until that moment when weakness or lack of attention or bad luck takes them down.
And Kenn focuses on one particular danger confronting birds arriving by so many thousands along the shore—the threat of collisions with wind turbines, something he and Kimberly have been fighting tirelessly to protect them from. Kenn stresses that it is indeed critical for us to move to clean, sustainable sources of energy, but wind power isn't the appropriate choice on such a well-documented, critically important migration magnet. I especially appreciate Kenn's discussion of the nitty gritty practical and political aspects of the issue, the frustrating endlessness of battles, and his successes, while not at all dismissing the critical importance of reducing our carbon footprint. This story is delicately woven through the book, providing a fine balance between natural history and conservation.
Kenn also writes beautifully about the human element—the nearly 100,000 birders that descend upon the Magee Marsh and surrounding area each May to enjoy the spectacle. Exactly ten years ago this week, the Kaufmans and a lot of others started up a huge 10-day annual birding festival they call
The Biggest Week in American Birding
. It lives up to its name in terms of the length of the event, the number of human participants, and the sheer numbers of birds that everyone gets to enjoy. During the Biggest Week, when people say it's "dead on the Boardwalk," they mean you're likely to see only a dozen rather than 20 species of warblers—the slowest May days there are as good as the best in most places. I've been a participant or a speaker at this festival at least five times now, and I can honestly say that I've never been anywhere in all my birding life where the concentrations of migrating and resident birds during May are so reliably dense no matter what the weather.
Of course, that leads to crowds of people, too. During the birding festival, parking can be difficult at the Black Swamp Bird Observatory office, but there's a huge parking lot at the Boardwalk, surrounded by prime birding along the lake and along the woods, so the good birding starts the moment you open your car door. I've been there during extremely crowded conditions, but regardless, I can't remember a time when the birds didn't vastly outnumber the people.
The
Ottawa National Wildlife Refuge
also has a huge parking lot, and I've never had a problem parking at any of the other hotspots in the area. I love birding all by myself, something impossible to do in this part of Ohio in May now, but sharing this wealth of birds is simply the right thing to do, to say nothing of fun in a different kind of way. Kimberly Kaufman, the director of the Black Swamp Bird Observatory, along with Kenn Kaufman and a host of other Ohio birders, has done a masterful job over the years of promoting birding, making the birding community more inclusive and fun both, and especially promoting the conservation of those birds along the Lake Erie shoreline—the shoreline will continue to welcome these birds not in spite of but because of the huge number of birders from all over thrilling at the migration spectacle who develop a visceral understanding of how vulnerable they are and how important protecting them is.
This year's Biggest Week festival kicked off on May 3, and will run through May 12. Birds will still be there when it's over—Prothonotary and Yellow Warblers nest right along the Boardwalk, and migrants will be passing through until close to the end of the month.
It's impossible to miss Prothonotary Warblers at eye level along the Boardwalk. I took this photo there last year during The Biggest Week.
I took this photo from the Boardwalk on June 10, 2013, during my Big Year. Even a month after The Biggest Week, Magee Marsh is a happenin' place.
I'm sad to be missing the festivities this year. Kenn Kaufman's A Season on the Wind: Inside the World of Spring Migration is making me hungry to get back there next year. Meanwhile, his book is worth reading for a better understanding of the migration strategies of different birds and how geography as well as weather determines the annual rhythms of migration. This book, so steeped in love for birds and for one important and beautiful migration magnet, is a treasure.