I saw my lifer Florida Scrub-Jay, which was exactly #600 on my life list, with my whole family in Lake Kissimmee State Park in April 1999. There was a family of jays as well as Ericksons, and one of them even dropped down to check out our family mascot, a plush pink puppet named Piggy.
When my godfather died the next year, he wanted his ashes scattered at the lake where he'd retired in Florida, so I spent a few days with my aunt there in February 2001. Every morning, she would join with some of her "lady friends" on a neighborhood walk to "feed the birds," and naturally invited me along. I was shocked to discover that the birds they were feeding were neighborhood Florida Scrub-Jays. I'd never photographed birds before that, but got some really good photos. Tragically, those photos disappeared on a bad hard drive, teaching me the hard way to back up my data—I only have one low-resolution photo from the set.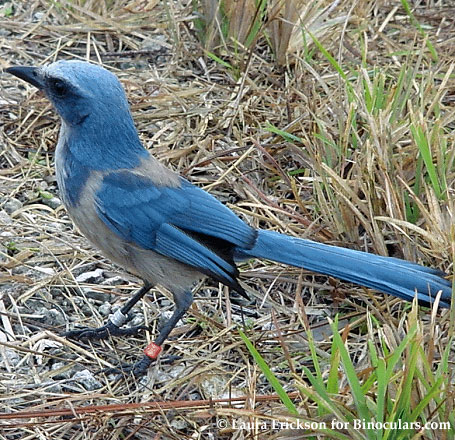 Over the years, most of the times when our family visited Florida, we've made trips to Lake Kissimmee State Park or to Merritt Island National Wildlife Refuge. When we first started going there, it was okay to bring peanuts to feed the jays, and my kids got an enormous kick out of that.
That is now prohibited. Oddly enough, a recent study showed that those Florida Scrub-Jays who take peanuts from people turn out to live longer than those who don't. Apparently nutrition has nothing to do with it; it's just that the birds who figure out how to exploit novel sources of food are apparently more adaptable. Now when I go to Florida, I still look at scrub jays, and I'm still charmed at how easy they are to photograph, even without peanuts.
Russ and I saw this Florida Scrub-Jay last year at Oscar Scherer State Park. The species is declining SO dangerously, but political pressures from developers and other economic interests keep it from being listed for protection under the Endangered Species Act.
In August 2005, I had what I called at the time "Scrub Jay Sweeps Month." Russ and I started the month in Florida seeing Florida Scrub-Jays at Lake Kissimmee State Park, where it used to be easy to find them right at the park entrance. Being August, they were molting, their plumage about as ratty as scrub jays can get.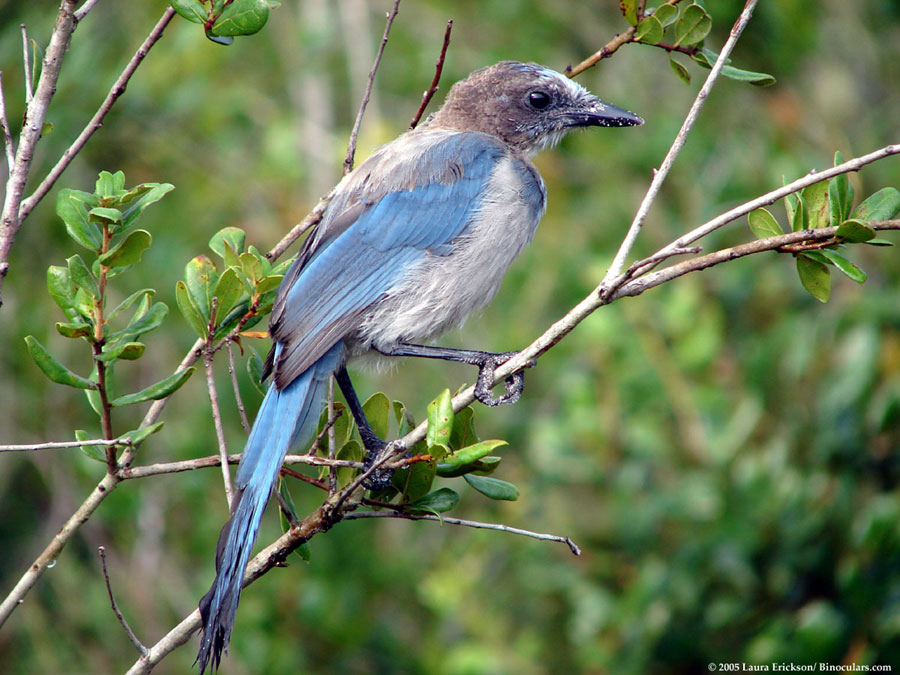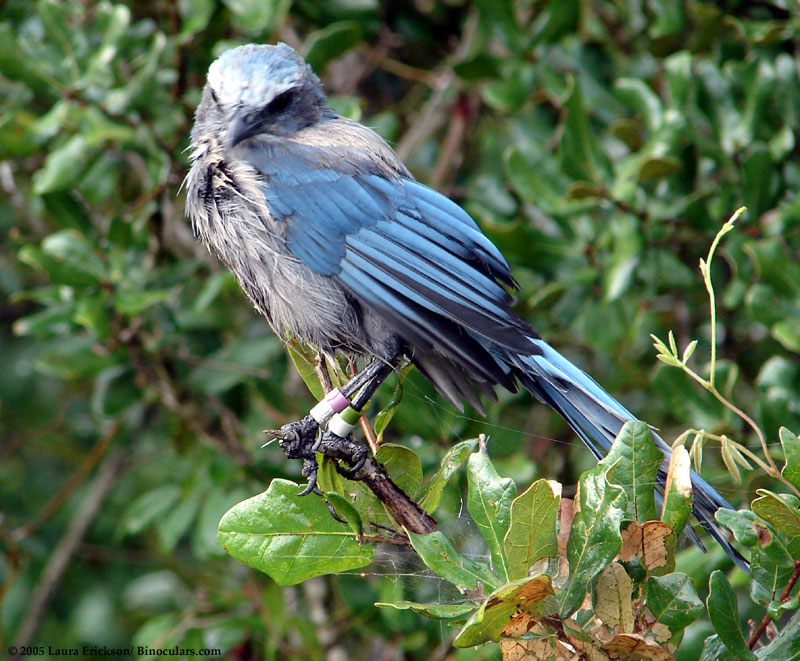 Then I attended an American Ornithologists' Union meeting at the University of California, Santa Barbara, where I saw two Western Scrub-Jays on campus, though the birds I saw did not approve of paparazzi and the one who did let me get a photo kept his or her back to me.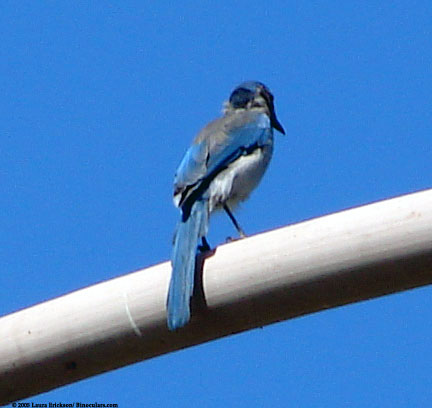 After the meeting, there was a post-convention overnight field trip to Santa Cruz Island to see the Island Scrub-Jay. We were staying in the cabins where the biologists who study scrub-jays stay. The birds there are easy to band and observe near the scientists' stations because they're accustomed to coming to the researchers for peanuts. That made them easy for me to photograph, even if my equipment wasn't the best.
Nowadays just three scrub jays wouldn't cut it—I'd have to also head to somewhere in the West outside of coastal California to get the Woodhouse's Scrub-Jay to see them all.
But I did get to spend time with Woodhouse's Scrub-Jays when I spent my 60th birthday, on 11/11/11, at the Grand Canyon. My goal was actually to see California Condors, but the jays made a most pleasant diversion.
Other than the 2005 AOU meeting, I've only made it to Santa Cruz Island one other time, during my Big Year in 2013, the only year I've seen all four species of scrub jays.