On January 3, Russ and I drove out to the Sax-Zim Bog for a lovely day of birding. I like to go to the bog sometime during the first few days of January. Last year my daughter and son-in-law were visiting for Christmas, and Russ and I decided we'd head to the bog on January 4th or 5th after they left for New York, but that day, January 3, I had my heart attack, grounding me for a bit. As much as I enjoy keeping a year list, I'm not emotionally tied to the idea of amassing a huge year list the moment a new year starts, so I was pretty patient during my convalescence. But there was no way on earth I was willing to sit at home when a Barn Owl was reported in the bog late on January 11, 2020.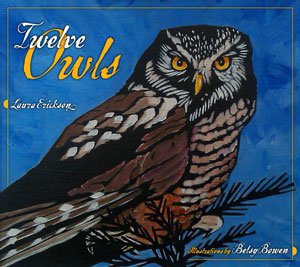 Twelve species of owls have ever been recorded in Minnesota—in 2011, I wrote a book about them for the University of Minnesota Press titled, naturally, Twelve Owls. Before 2020, I'd been lucky enough to have seen 11 of them, each one at least once in St. Louis County. But Barn Owls are incredibly rare in southern Minnesota and even more improbable up here in the northern part of the state.
For decades after we moved here in 1981, I had a recurring dream about seeing a Barn Owl in the county. I knew that was a pipe dream, probably inspired because Duluth's Kim Eckert had led me to my lifer in Chicago in 1978 before I knew who he was. After I met him when we moved here, my brain must have been playing around with that memory.
There had only been two records of Barn Owl in St. Louis County ever before. The first was in Duluth in February 1960 when I was an 8-year-old in Chicago. Three years after we moved here, a dead one was picked up in Hermantown right near Duluth, but no one had seen or reported that one while it was alive. So a Barn Owl was definitely not in the cards.
So you can imagine how thrilled I was to see and even photograph the one last year on January 12 during my very first getaway after the heart attack.
Tragically, we really are too far north for Barn Owls to survive—that one died later that very day. But while it was alive, it made me one of very few people who have seen all 12 owls in Minnesota, and even more thrilling, all 12 of them in St. Louis County. It's not much of a claim to fame, and it's a tragic one at that, but it's something. That poor doomed owl was the best bird I saw in all of 2020, and the bird that brought my St. Louis County list to precisely 300.
This time around, there was no way could Russ and I could possibly have seen anything that exceptional. Indeed, we didn't see a single owl all day. I just wanted to visit a few places and poke around, taking photos.
We picked a beautiful day—dense hoar frost covered the trees much of the day, and though the temps started out in the teens, there was no wind. I took plenty of shots of scenery and a few requisite pictures of red squirrels.
In terms of birds, I saw only 19 species, none of them rare, but had a superb time.
The feeding station in the far northwest corner of the Sax-Zim Bog map, known far and wide as Mary Lou's Feeders, has for years been the only spot with fairly reliable Evening Grosbeaks, so Russ and I headed there first. Sure enough, we had dozens and I took bazillions of photos.
Oddly enough, she had even more House Sparrows, a species I seldom see at the bog, so I took lots of pictures of them, too.
Then we headed to the feeding station on McDavitt Road, where there were dozens more Evening Grosbeaks! They were a sight for sore eyes.
Then on to the Admiral Road feeding station. I watched for a Boreal Chickadee but didn't manage to pick any out. But I did see lots of the usual suspects—Hairy and Downy Woodpeckers, Canada Jays, Black-capped Chickadees, Red-breasted Nuthatches, and some redpolls and Pine Grosbeaks.
The Welcome Center had the busiest feeders, with a lot of Evening Grosbeaks along with Pine Grosbeaks and more Canada Jays. I spent most of my time feasting on their beauty and soaking in their lovely calls. Next time I go there, I'll bring my sound recorder to set up somewhere for a few hours.
We ended the day at the Winterberry Bog, walking the brand-new boardwalk memorializing a treasured friend of mine, Bob Russell, who died in 2019.
I was thrilled that the boardwalk named for him is so beautiful. We lucked into a Black-backed Woodpecker there (no pix), but did not see the ermine that's been hanging around at the start of the boardwalk. I've yet to see an ermine in my whole life. That's what keeps us birders going. Tomorrow is another day, and you never know what it will bring.
Russ and I saw this Boreal Owl at the Bog last year on Superb Owl Sunday (February 21).
Who knows what we'll see this year?